Sylvia Toledano Manchette Stone Masai Small Bracelet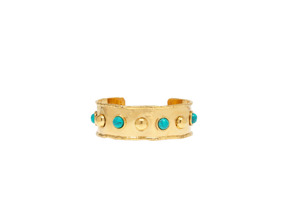 Price:
1,395 kr
Inc. 25% Tax
SKU:
P1512582
Quantity:
In Stock
The Stone Massai dots cuff is soon to become the new best seller of Sylvia Toledano jewels collection. Chic, simple, it is the new favorite of the press, the fashionistas of the world. So easy to wear everyday, from day to night. Start your own collection. The open-ended design of this piece makes it easy to slip on and off.

This cuff is crafted in Jaipur and made of gold plated brass and turquoise.