Gem Kingdom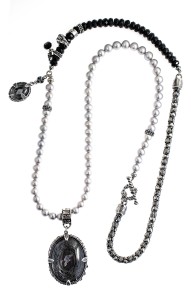 Pris:
11 500 kr
Inkl. 25% Moms
Art.nr:
P1763046
Typ:
OS
Antal:
Vänligen välj en produktvariant ovan
Finns i lager
Limited Edition hand made in the Netherlands made of pearl, black onyx, glass and silver.
An artistic and trendy piece, a timeless classic combining traditional cabochon carving and contemporary design. That extra touche to your outfit luxe up that silk blouse tweed or dress .