HEMANT AND NANDITA BRIE BOHEMIAN CHIC DRESS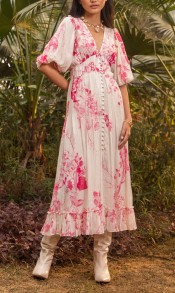 Ord. pris:
6 995 kr
4 896 kr
Inkl. 25% Moms
Art.nr:
P2035432
Du sparar:
2 099 kr (30%)
Typ:
XS-S
Antal:
Vänligen välj en produktvariant ovan
Finns i lager
voile long dress with fabric covered buttons down the front in a Victorian style. Trendy and feminine balloon short sleeves. This dress is bohemian chic and great for occasions on summer days or nights to look sensual and stylish.