Olvis' Lace Dress | Blue (Please contact boutique to order)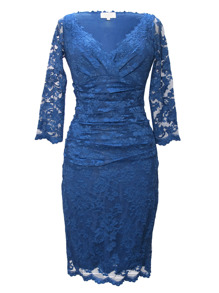 Price:
8,995 kr
Inc. 25% Tax
SKU:
P926951
Type:
38
Please select a variant above
Out of Stock
This stretch lace dress features a slight v-neck, pedal trim, and ruched draping across the front. Has a tonal attached slip and pull on entry. Stretch dress with a layer of draped exquisite lace. 3/4 lenght sleeve.

Details
Unique washable lace
Pull on entry
Royal Blue
This dress can be ordered in 55 different colours and 7 sizes, please contact boutique.