DESIGNER UMBRELLA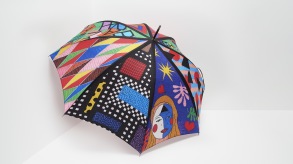 Pris:
1 995 kr
Inkl. 25% Moms
Art.nr:
P1833165
Antal:
Finns i lager
Paris Picked umbrella karinascope
by Karina Bisch at We do not work alone
Usual objects by artists
Since 10 years Karina has built a visual narrative summoning important figures of the historical avant-garde of the 20th century. For the limited edition umbrella she drew 8 felt pen drawings thus creating anthology of recurring patterns in her work.Those drawings literally spread out thei power on the opening of the umbrella.


88cm L 102cm
Produced by renommade umbrella factoryGuy de Jean.